I changed this for you, Rich.

comments -- miketoole (at) gmail . com

BLOGS FROM ANOTHER TIME

2006
january
february
march
april
may
june
july
august
september
october

2005
january
february
march
april
may
june
july
august
september
october
november
december

2004
january
february
march
april
may
june
july
august
september
october
november
december

2003
march
april
may
june
july
august
september
october
november
december

Wednesday, June 30, 2004
by mike 6/30/2004
by mike 6/30/2004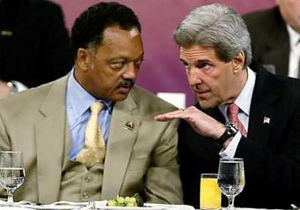 You see Jesse, with me as the DJ, and you the rapper, we could totally rock the black vote. Check it. Wickety wickety wack! We could get Sharpton to get the crowd to say, "Oh yeah!" Want to hear me do a beat box?
by mike 6/30/2004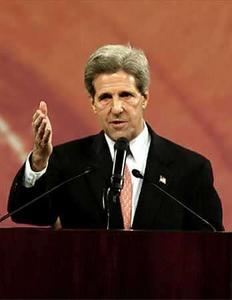 For the last time, I am not dead. And to prove that, I will raise my right hand. But only slightly. I'm so tired.
by mike 6/30/2004
---
Tuesday, June 29, 2004
by mike 6/29/2004
this link
. For those who might not believe that it was Madonna in the
picture I took
, you can see the fellow in the passenger seat is also in the picture I just linked to. And I think you can see the mustache of the other guy (sweet 'stache, bro). Also the girl in that photo with the red skirt is the girl that I said was smiling towards me after I took the photo.
I am officially vindicated!
by mike 6/29/2004
Fahrenheit 9/11
last night. Not sure what I'll say about it just yet, so I'll type and see what happens.
Before I get to the actual movie, I'll comment on the audience. Very crowded for a Monday afternoon. A big theater about three quarters of the way full. You figure a documentary about politics would keep the riff-raff away. Yet, some fool brought their baby. Please check your baby at the door. Let the concession guys take care of your baby. They can rest it in the popcorn bin. Babies don't belong in movie theaters, especially one that is showing images of war. Not because the baby will be traumatized, but because the theater will be filled with adults that want to punch you because your baby is crying.
Then a guy's cell phone rings and he answers it and starts talking pretty loudly. Everyone immediately says something to him. He then hangs up and turns his phone off, but come on. How fucking stupid are you?
Then there was this baby who was talking on a cell phone.
Anyway, the movie. (This is me from the future. I just finished writing this, but it's too long and disjointed to post here. You can read all about it on my
SuperSecret blog
.)
I will let you know that I snuck into
Dodgeball
after
Fahrenheit
. Funnier than I expected. Usually those movies are funny in the beginning, but then get tiresome. This one actually got funnier later in the movie. Not as funny as
The Day After Tomorrow
, but still worth a couple of belly laughs.
by mike 6/29/2004
---
Monday, June 28, 2004
by mike 6/28/2004
---
Sunday, June 27, 2004
by mike 6/27/2004
---
Thursday, June 24, 2004
by mike 6/24/2004
Super Size Me
. I thought I'd have a lot more to say about it, because as I was watching it, I had a lot to think about. I'm not sure what to say about it, though. It's enjoyable and mighty scary to see what McDonald's can do to a man.
If you are not familiar with the film, basically a perfectly healthy guy eats nothing but McDonald's for one month. And I do mean nothing. There is one point where his nutritionist tells him, "I really wish you'd take a multi-vitamin." He replies, "I don't think they sell those at McDonald's."
About three weeks in, one of his three doctors tells him that if he continues at this pace, he could die. His liver became that fucked up. It was insane. Granted, most people don't eat that much McDonald's, but the fact that it has that potential is frightening. Even the doctor said something like, "I knew this was not a good idea, but these results are appalling." And oh yes, he gained 25 pounds. In a month.
Watching this movie was like one of those "Scared Straight" programs. I think I may never eat at McDonald's again. Or at least the next month. Or this week. Well, regardless, I promise you I will not eat McDonald's today.
Anyway, you should see the film, and if you are a health teacher at a middle school or a high school, you should show it to your students. And you should also lobby your school to serve good food to kids, rather than shovels full of shit and sugar.
Anyway, there was another point in the movie where the guy woke up at 2 AM and he was describing symptoms he was having, which totally reminded me of my heart palpitations. So once again, I'm asking for a voluntary nutritionist.
by mike 6/24/2004
---
Wednesday, June 23, 2004
by mike 6/23/2004


This morning on the train, a man came in to let everyone know how awesome God is. He was annoying. Not God, this guy. He was loud and boisterous. Doing a lot of yelling. Normally, people will just let the guy go off on his rant and ignore him. I had my headphones to drown him out. Other people don't peek up from their NY Post or the Daily News. At one point he started saying, "I know God's People are on this train. I see that." I wanted to say, "Maybe so, but it's quarter to seven and we are all Very Tired God's People. Please shut up."

I said nothing and assumed that everyone else would remain silent. But today, there was another guy who decided to fight back. I'm not exactly sure what he said, but it was in the vain of "Shut the fuck up, you crazy bastard. No one wants to listen to you."

So the God guy then says, "Oh, yes, that is expected. I understand that. The devil is angry."

Holy crap! God vs. the Devil on the N train! And I was there!

So now God Guy is going on and on about lots of weird stuff. I took my headphones off because this was actually getting interesting. He said, "If you thought 9/11 was bad, you have seen nothing yet. The Bible says there will be hurricanes and earthquakes..."

The Bible sounds an awful lot like The Day After Tomorrow.

Anyway, the thing with these Bible Bangers is that they always start bringing up weird shit, then somehow tying it to what they deem as evil. The train pulls into 57th street and he starts saying, "We live on this Earth with all of this water. The Earth is round, not flat, you notice? And there is water above us and below and on all sides. How does it not fall out? Because God is holding it in."

Interesting theory. He continued, "But He can't hold it forever. It will soon fall out, because of evils like homosexuality and... homosexuality is evil."

That was all he could come up with. Homosexuality. So thanks a lot, all you homos. You are going to ruin our oceans with all of your depravity.

Memo to gay guys:

The time to repent is now! Start having lady sex! The future of our marine environment depends on where you put your wang! Won't someone please think of the fish!?!?
by mike 6/23/2004
---
Tuesday, June 22, 2004
by mike 6/22/2004
---
Monday, June 21, 2004
by mike 6/21/2004
---
Friday, June 18, 2004
by mike 6/18/2004


Shouldn't I Still Know What You Did Last Summer be called I Still Know What You Did, Not Last Summer, but the Summer Before That?

OK, back to 2004.

The other night I thought of a funny line, but couldn't find a way to put it in a post or anything, so here it is:

"Things you will never hear on the other end of a phone call to a frat house.

'Dude, put on C-SPAN2 right now.'"

Maybe it wasn't that funny. It sounded funny.

I also thought of the line, "Maybe Clinton did get a blow job, but Bush fucked Iraq."

What else? I saw a guy get hit by a car yesterday. He was on roller blades and couldn't stop because it was raining and the road was all slick. The light had turned red, but he was thinking green. He tried to get the attention of the traffic crossing by going, "WHOA WHOA WHOA WHOA!" Not quite as effective as a siren. The guy did not hear him. He then saw him at the last minute and bumped the guy. Roller blading guy had a pretty big raspberry on his leg up towards his ass. I could see this because he had some very gay shorts on. He wears short shorts.

He got up and made a hand gesture towards the guy in the car like a "Forget you" kind of motion. The driver looked at me and was like, "What could I have done?" I just kind of chuckled and shrugged. Then the roller blader got hit by a bus.

That's a lie, but it's what everyone was secretly rooting for. Well, not secretly. Everyone yelled in unison, "We hope a bus hits you!"

That's not true either. Sorry.

I have a fear of a few things. One of them is being stranded in the ocean and the other is accidentally killing someone with my car. I would hate that. If you accidentally kill someone with a gun, you can just be like, "Well, no more guns for me." You can avoid them, but it's hard to avoid cars. Constant reminder kind of shit, you know?

I'm coming around to the Beastie Boys album. It's getting better on repeated listenings.

So Father's Day is this weekend. I think if and when I am a father, I will tell my children to not get me anything. Especially cards. They are the biggest waste. Here is a card I would like to make for my dad right now:

Remember that summer when we built the deck around the pool?
I stood there watching you, impressed by your knowledge of geometry.
Every once in a while, you'd be like, "Go get me a, uh, wrench from the garage."
Then I'd get it.
You'd say "Thanks."
I stood there and watched you some more, bored out of my head.
Once in a while, something wouldn't go right, and you'd say, "Ahh, fuck. What the? How the fuck did I do this? Shit."
You cursed a lot that summer.
Then I'd say, "Can I go play hockey?"
Then you'd be like, "I need you here."
Then I'd say, "Well, for how long?"
"Maybe an hour or so."
"OK."
Then you would often let me go a bit early. That was awesome.
But I hated that fucking summer.
That deck was huge.
Whenever I drive by the Home Depot, I have horrible flashbacks of wood.
Anyway, Happy Father's Day.

I have yet to find a card that says that.

Happy Father's Day to all you dads out there. You should celebrate by getting wasted and throwing a whiskey bottle at your kids. It will be a great story for your kids to put on their blogs in the future. And they can always be like, "Remember that time dad got drunk on Father's Day and threw a whiskey bottle at us? And then we asked him why he did it and he said it was because some guy told him to do it on his blog? That was a weird day, huh?"


by mike 6/18/2004
by mike 6/18/2004
---
Thursday, June 17, 2004
by mike 6/17/2004
---
Wednesday, June 16, 2004
by mike 6/16/2004
Lakers may lose Jackson, Malone, Bryant
. Who cares? Well, I guess basketball fans and Lakers fans care. I don't. I'm glad the Lakers lost. I hate the Lakers more than I like basketball.
Here is what I hope for the Lakers:
Phil Jackson actually accepts a coaching job with a team that has mediocre players, not the most dominant players in the world.
Karl Malone tries to latch on to the Pistons in an effort to get his elusive NBA Championship. When that fails, he joins a traveling production of "Rent".
Kobe Bryant is convicted of rape.
I think the Kobe outcome is most likely, because Phil Jackson likes things easy and Karl Malone wouldn't be a good fit in "Rent".
Anyway, nice job, Detroit. And thanks for not rioting.
by mike 6/16/2004


These guys are old. It's kind of odd. I like how they've gotten so political. It's not often you hear the Kyoto Treaty and OPEC referenced in hip-hop. I guess you've gotta rap to your age group. Here are some sample lyrics from a future Beastie Boys album, when they are in their late 60's.

I used to party all night and sleep all day,
Now I gotta cash in my fuckin' 401(k).

I've seen more Real World than Puck or Trishelle
I'm at the Red Lobster for the Early Bird Special.

I might be old, but I still love beer.
Someone close that door! There's a draft in here.

That's all I got.
by mike 6/16/2004
---
Tuesday, June 15, 2004
by mike 6/15/2004
---
Monday, June 14, 2004
by mike 6/14/2004


Are Random Subway Searches Constitutional?

I believe they are not. Isn't that the 7th Amendment? The right to not have your shit searched on the subway. If anything, they'll just be a nuisance for us non-terrorists. You know they'll be told to profile Arab-looking men, but to make it look like they are truly "random", cops will be told to pick a few non-Arabs here and there. I was once on line at the ticket counter at the airport, soon after 9/11. I was behind two Arab men. You knew their shit was getting searched. They were cool about it. They knew too. There was also another foreign family (Eastern European, I believe) whose bags were getting a full cavity search. When I got to the ticket counter, soon after the Arab men were led away, I was asked to follow a security guard. They "searched" my bag. Basically moved a few things around my carefully packed bag and talked to me about where I was heading. I have a feeling someone was like, "Hey, send back a white guy. Too many foreigners back here making us look racist."

Should Pro-Choice Politicians Be Denied Communion?

Hell yes. Not only that, but they should be met by protestors in front of the priest holding up signs that say "God hates fags." I know that doesn't pertain to abortion, but it's damn effective. Whenever someone talks to me about God, I'm like, "Oh yeah, I heard of that guy. Hates fags, right?"

Should the Fresh Kills Landfill in Staten Island Be Made Into a 9/11 Memorial Park?

To be honest here, I don't think so. While I'm all for nice memorials, I don't want to see the tri-state area turned into 9/11 Memorial Land. They have an opportunity to turn that shit dump into a huge park, so anything to make Staten Island a little bit nicer should be done. Not that a memorial wouldn't be nice, but I don't think we should get carried away.

But what do I know? I'm just some jerk typing on a computer.
by mike 6/14/2004
---
Friday, June 11, 2004
by mike 6/11/2004
This
is unbelievable. How fucking sensitive are we getting? Jimmy Kimmel, who is not even very funny but somehow has his own show, made some unfunny jokes about Detroit during halftime at the NBA Finals. Yeah, Detroit's a crappy city. Barrel of laughs. Anyway, regardless of the comedic value, the fact that they
pulled
his show that night nationwide is a joke. Apparently, his show had more "disparaging remarks."
I'm from New Jersey. If we pulled every show that had "disparaging remarks" about my fair state, there would be nothing on after 11:30. This boggles my mind. He didn't come out and say something like, "I think everyone in Detroit should die. Wouldn't that be awesome? The whole city, dead. That'd be great. Nothing but dead Detroiters all over the place. That would be great for this country. Hey, al-Qaeda, next time you attack the shit out of us, hit Detroit. You'll be doing us a favor."
So if he said, that, then yes. I'm all for pulling the show. But for saying some stupid shit about the city looting after the NBA Finals? Who fucking cares?
Dear Country,
Let's all take a deep breath, lighten up, laugh again, and make fun of each other. This also goes for all you
white trash
motherfuckers in Detroit. Hey, we can take it over here. Yeah, New Jersey smells like shit. New Yorkers all murder each other. See? Now give me a hug.
Love,
Mike
by mike 6/11/2004
---
Thursday, June 10, 2004
by mike 6/10/2004


I found this odd because it wasn't a taped message like, "Don't hold the doors open," or something like that. The conductors were going out of their way to tell us to keep an eye out. And the other day there were about 20 cops in the Union Square station.

I would like to think though, that if the Alert was secretly heightened, so not to cause a panic, they'd tell it to more people than just the MTA.

So anyway, just a heads up. Keep your eyes peeled, city dwellers. There's a goin's a doin'.
by mike 6/10/2004
---
Wednesday, June 09, 2004
by mike 6/09/2004


I was lying in my bed on a Saturday morning around 8:30. It was a beautiful day out and there was a wonderful spring breeze blowing up my butt. All of the sudden, I heard this woman singing outside. She wasn't serenading me, but the singing was coming from the church that is two doors down from me.

There is often a lot of singing in the church. They practice on Tuesday nights at 8:00, but it's usually a bit more raucous. And on Sunday there is a mass that sometimes gets pretty loud. It's an Hispanic church and they've got a lot of love to give Christ.

Anyway, on this particular Saturday, where I am usually awoken by jackhammers and construction workers dropping things, it was great to be pleasantly nudged awake by this angelic voice. So I just lay there for a while, listening to her sing, in a language I didn't know, but I know the language of love and I could tell she loves her God.

Then she stopped singing. All of the sudden there was this jumpy piano that started to play, and then a guy with a raspy voice started singing. Well, not singing, really. More of a yell. A howl. The sound of a truck crashing. It was a horrid sounding voice in every way. Off-key, loud, and despite its low pitch, it was still piercing.

Then came the chorus of the song. He just started yelling, "Jeee-zuuuussss! Jeee-zuuuussss!" Except it was in Spanish, so he was yelling, "Hey-zooooooos! Hey-zooooooos!" Over and over again. If I was Jesus, I'd have been pissed. It sounded like he was mad at Jesus. It went from this calm, relaxing, gorgeous voice to a guy who sounded like gravel.

Anyway, if I hear that guy again, I'm calling Mayor Bloomberg. If he hears that guy, though, he might be inclined to shut down all churches in the city, because no good could have possibly come from that song.
by mike 6/09/2004
Garfield movie
:
Dear Bill Murray,
What the fuck were you thinking?
Sincerely,
Mike Toole
by mike 6/09/2004
---
Tuesday, June 08, 2004
by mike 6/08/2004
I would like to apologize for the statement I just made. It was uncalled for and inconsiderate. I apologize to anyone who may have been offended.
Well, thank gosh I apologized. It seems that's really all you have to do these days. The reason I bring this up is because of the
Bill Parcells
comment where he said two of his coaches use "Jap plays" (meaning surprise plays... a Pearl Harbor reference).
It's a stupid thing to say in a room full of reporters, especially when you preface it with "No disrespect to anyone," which he did. If you start a sentence with something like "No disrespect to anyone" or "I don't mean to be rude, but..." chances are you are going to be disrespectful and/or rude. I used to work with a guy who was from the south and that was his way of being politely rude. "Now, Mike, Ah don't mean to be rude or nuthin', but Ah think you're a douchebag and your birth was a mistake." He was never really that harsh, but you get the idea.
Anyway, what was my point? Oh, the thing I hate most about these apologies is the phrase, "I apologize to anyone who may have been offended." You KNOW people were offended. You did not "may" offend anyone. You DID! It sounds so insincere. It's kind of flippant as if to say, "If you were sensitive enough to be offended by my actions, then I'm sorry. But to the rest of you, my statement still stands."
I would think a more effective way to say it is, "I apologize to everyone who was offended." The other way makes it sound like you still don't believe that people were really offended.
Anyway, it's all bullshit. Bill Parcells is an older man and he's part of a generation. They still say things like that. Most are smart enough to not say it in front of reporters, or don't have the opportunity to do so, but I think his apology would have been more sincere if he just said, "Look, that's what we call trick plays. I guess it is offensive, but it isn't really meant to be. And when it's said among a bunch of non-Japanese coaches and players, it really never appeared to be that bad, but now I realize it is offensive. And for that, I'm sorry."
There. Case closed. I should be a professional apology writer.
Anyway, I was offended by his remarks, but only because I am very good friends with Asian people. In fact,
here is a photo
of me with one of my best Asian friends.
by mike 6/08/2004


There are two light fixtures in the men's bathroom here at work. One of them is currently out, so the bathroom is dimly lit. I walked in there earlier while a co-worker was peeing, and I said, "Wow. It's so romantic in here."
by mike 6/08/2004
---
Monday, June 07, 2004
by mike 6/07/2004
---
Sunday, June 06, 2004
by mike 6/06/2004
---
Thursday, June 03, 2004
by mike 6/03/2004
---
Wednesday, June 02, 2004
by mike 6/02/2004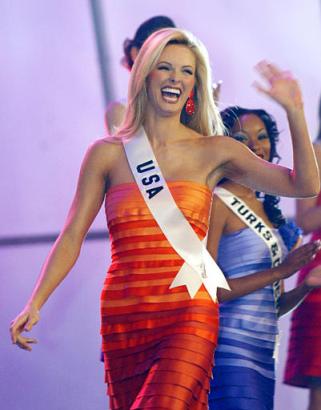 "I have no idea what a war is!"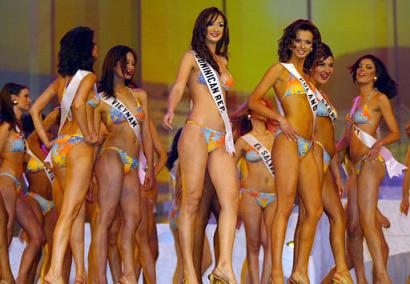 And now for the most exciting competition of the evening: Not Eating Anything - Ever.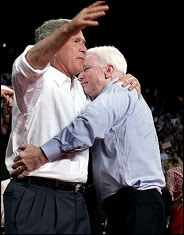 The pageant took an ugly turn with the musical number, "Let's prance around like a bunch of homos."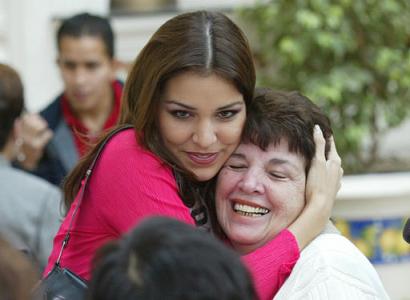 Miss Ecuador offers a hug to Miss Republic of Fugly.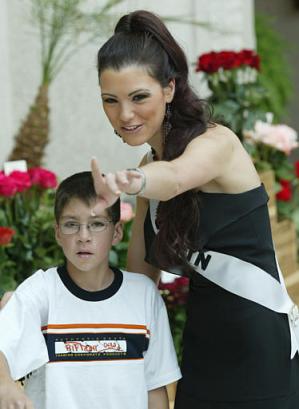 While Miss Spain points out a couple of other contestants to this Ecuadorian boy, he gets his first boner.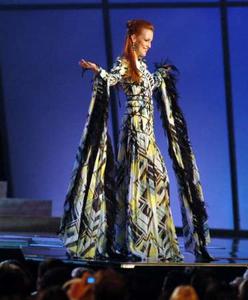 Here is Miss Slovakia during the Evening Gown competition. She was asked to leave the premises immediately and never return.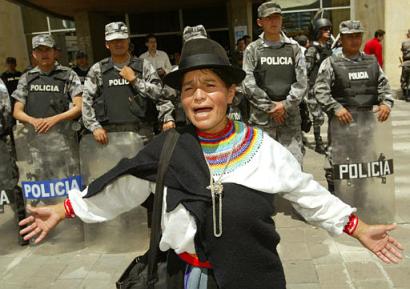 The pageant was marred by protestors saying that such contests are frivolous. Singer Gloria Estefan (who performed) defended the contest by saying, "A beautiful woman has very great powers to convince, and we have seen many misses who have done a great job." She then added, "What have ugly women done for the world? Nothing. For example, look at that little troll protesting. Yuck."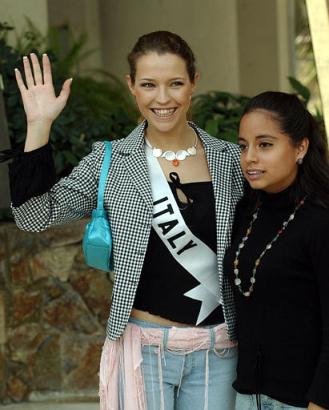 When asked what she would change in the world today, Miss Italy responded, "I'd like-a world peace. And I'd also like-a to put an end to the Olive Garden trying to associate themself with Italy."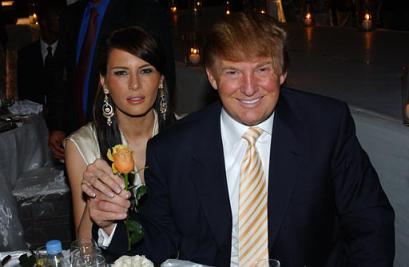 "Hi. I'm Donald Trump. I own half of New York City and I've got me a hot piece of ass. How are you?"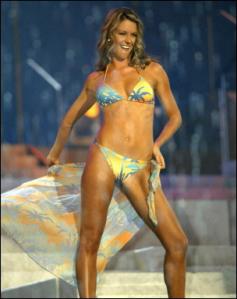 And finally, here is your winner, Miss Australia. She floored the judges during the Evening Gown competition, the talent competition, and in this competition seen here, Best Rib Cage.
by mike 6/02/2004
---
Tuesday, June 01, 2004
by mike 6/01/2004
by mike 6/01/2004
---