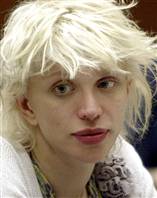 Apparently, Courtney Love needed to shut down her
web site
, due to lack of funds. "Courtney can no longer fund the site, our server has been suspended, and we need to come up with $5,000 to get it back online," reads a plea on KittyRadio.com.
Just get a blog, ya crazy bitch.
I believe that it is time for Courtney to give up Frances Bean. Give the girl a fighting chance. Her father killed himself and her mother is a nut. I propose that Frances Bean be put on eBay.
In other news, Mary-Kate's publicist is denying the rumors that she is in drug rehab. Says her longtime publicist, Michael Pagnotta, "Mary-Kate Olsen is being treated for an eating-related disorder."
Apparently she's only been eating cocaine.
Thank you. Good night.