I changed this for you, Rich.

comments -- miketoole (at) gmail . com

BLOGS FROM ANOTHER TIME

2006
january
february
march
april
may
june
july
august
september
october

2005
january
february
march
april
may
june
july
august
september
october
november
december

2004
january
february
march
april
may
june
july
august
september
october
november
december

2003
march
april
may
june
july
august
september
october
november
december

Tuesday, September 30, 2003
by mike 9/30/2003
---
Monday, September 29, 2003
by mike 9/29/2003
---
Sunday, September 28, 2003
by mike 9/28/2003


I don't remember when I first got chest hair, but it was apparently after the summer of '96. I guess I really don't pay attention to detail. I would think that the day I started to turn into my dad would have been memorable. Now I am nervous that the hair is just going to begin spreading. Like back hair. Lord no. Please no. I had a roommate in college who had quite the hairy back. He actually asked me if I could help him shave it. I politley declined. And by politely declined, I said, "Dude, you hairy freak, get the fuck away from me with that razor, you gigantic gorilla."

My other roommate was nice enough to do it. It was such a weird sight to see my roommates together in the bathroom, one shaving the other. It will be an image forever burned into my brain. They also picked bugs out of each other's fur. The tragic irony for my roommate was that he was going bald. So here he was, with a back that had more hair than he knew what to do with, and a bright shiny skull with barely a little bit of peach fuzz. But hey, he's married now and hopefully happy. God bless the hairy back bald man that can find a wife. Maybe I should go bald and grow some hair on my back. Only then will I find happiness. We should all be so lucky.

by mike 9/28/2003
---
Thursday, September 25, 2003
by mike 9/25/2003
Williamsburg
about this, my hipster home, because I think going to a Dave Matthews show is grounds for expulsion.
It's gotten to the point where I feel like I am the oldest person at a concert. There were so many kids there. I look at some of these girls and I'm like, "Wow, if I was at this concert five years ago, I'd try to talk to you."
I've seen him quite a few times and every time I go I say to myself, "This is the last Dave Matthews show I am ever going to." Well, there I was again last night, thanks to a free ticket. They were all free tickets at one point, but lots of people were suckered in to buying them on eBay or from scalpers. I just can't stand at concerts anymore. I am sick of standing. I just want to sit. I like sitting. Sitting is fucking awesome.
I waited in line for two hours to get into this place. At least two hours. Standing. It took two hours to go from 63rd St. to 72nd. It sucked ass. Then once we got in, we heard everyone saying that they just cut in line at the front or entered at 81st street, where there was no line. Bastards.
One guy who was walking by the line said this to his friend: Yo, grabbing that second beer was a fucking great idea, bro.
Indeed it was. What a genius! I heard the word "bro" approximately 4,258,164,058,705 times.
While we were waiting in line, there was this one girl who said, "I can't believe I haven't seen anyone I know yet. I thought I'd run into a lot of people." Yes, that is surprising. In such a small crowd of 75,000 people, you'd expect to run into dozens of people you know. I'd expect at least six people.
About ten minutes after I made fun of this girl, I happened to run into my friend Gina.
So we hung out with Gina and her pals for the show. While we were waiting for it to start, there was a fella behind us who decided that walking to the bathroom was just not an option. He whipped out his wang and started taking a piss right there. Now before you go and judge this guy, it should be noted that he was courteous enough to cover himself with an umbrella. Although it was one of those little drink umbrellas that you find in margaritas. Luckily he left our area and wandered around to find more territory to mark.
What a dirtbag. Of course, he was drunk. And he was wearing a "
Blackout 2003
" shirt, so if anyone was going to piss in front of everyone, the smart money was on this pony. As soon as I saw his shirt, I was like, "Oh, there's the guy who will take out his dick and start pissing in front of everyone." I wonder if before he went out, he was looking at his t-shirt collection, and said, "Now, should I go with the blackout shirt or my "Heroes of Ground Zero" shirt? Well, since it's a happy event, I'll wear the blackout shirt. People will enjoy that. So maybe I should wear my New York Fuckin' City shirt. Everyone always gets a kick out of that. But then people will think that maybe I've got too much of an attitude, and Dave Matthews tends to draw somewhat of a hippie crowd, so I guess I won't wear that one. Oh wait, maybe I should wear my Devils jersey. No no. Definitely the blackout shirt. What an awesome night this will be! This Blackout shirt has already paid for itself!"
I like the hats and shirts that people sell on the street with all of the curse words. Like the shirt that says, "Fuck you you fuckin' fuck." Brilliant! The hats that just say "Fuck" are funny. Who is in the market for hats like these? "Hmmm, I like the 'Fuck' hat but I'm looking for something a little less mainstream. Can you show me something in a 'cocksucker'?"
There was this one guy who was holding up a sign. I have no idea what the sign said, but since we were about 11,000 rows deep, chances were that no one was going to see it. Take that shit back to the WrestleMania from whence you came.
So now I mean it. That was the last Dave Matthews show I will ever go to.
This is a picture of Gina. She likes to dance with videographers at weddings.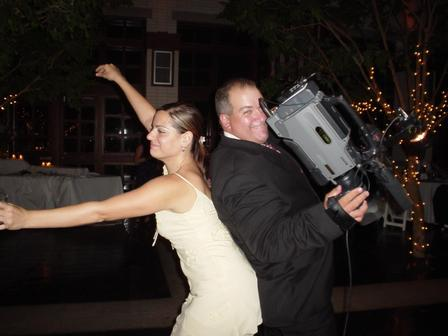 by mike 9/25/2003
---
Wednesday, September 24, 2003
by mike 9/24/2003
---
Tuesday, September 23, 2003
by mike 9/23/2003
---
Monday, September 22, 2003
by mike 9/22/2003
Anise
, I am now a Pro Blogger. As an early birthday gift, I have been upgraded. This means I can attach my own photos to my site, and not have to steal them from random places on the internet. I think there will be many other things I can do, but I haven't had the chance to figure them out just yet.
I'm sure many of you have wondered, "What does this Mike Toole look like?" Well, wonder no more. Now that I can upload my own photos, I can keep you updated on my life -- in picture form.
Here I am, circa 1988, when I was the Intercontinental champion of the world.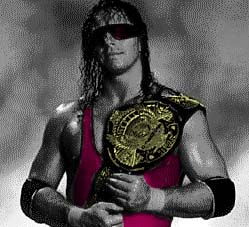 by mike 9/22/2003
---
Thursday, September 18, 2003
by mike 9/18/2003
---
Wednesday, September 17, 2003
by mike 9/17/2003


My vote is for Sandy Duncan to come in and take over for him. She did it on the Hogan Family, so you know she's got the experience. They can change the show to 8 Simple Rules for Not Making Fun of My Glass Eye. Rule 1: Don't make fun of my glass eye. Think of all the fun they can have with her eye. The scenarios are endless.

Honestly though, how the hell can they do that? I never watched that show, but I imagine that Jack Tripper was the central character. It seems like he'd kind of be playing both the straight man and the funny man, know what I mean? And the show is called 8 Simple Rules for Dating MY Teenage Daughter. The "My" in that is good ol' John.

I'm concerned about the daughters. Girls who lose their fathers that young try to make up for his loss by sleeping with less desirable men. They need a good role model. Maybe Jim Belushi, that hilarious sack of plop can take time off from his poopfest of a show called "According to Jim, The King of Poop," and help those girls out. I feel bad for them.
by mike 9/17/2003
by mike 9/17/2003
psychic tendencies
. I very loosely predicted 9/11 and once in a while I have a dream that comes true. About two days before I went on vacation, I had a dream that I was at the beach house I was going to stay at. I was standing on the deck with my friend Rich when all of the sudden two fighter jets flew above us and started fighting. They weren't shooting missiles, but they were using the front ends of their jets to fight each other. They stopped in mid-air and started hitting each other. Rich said they were "sword fighting."
Now, that part didn't happen in real life. The thing with the sword fighting. But our house was about a half mile away from a naval base and there were jets flying all over the place. I just find that really bizarre. My brain occasionally scares me. I'm just waiting to see a dead person. Then I could start my own talk show where I say things like, "Is there someone in your family with a name that starts with the letter 'J'"?
Because of these jets, I also experienced my first sonic boom. Of course at first we had no idea what it was, but I asked the redneck neighbor and he confirmed it was a sonic boom. It didn't really shake the house. It was more of a sway. Pretty wild and scary.
That'd be a good name for a band. The Sonic Booms. It'd also be a great name for a professional wrestler. But I think the best use for it would be a porno star. Once Upon a Time in Sexico, starring Sonic Boom.
I was once asked to be in a porno. I was walking in a parking lot heading towards a bar in good ol' Red Bank, New Jersey. I was with a couple of friends who were a few steps ahead of me. I heard someone say "Hey. Hey, you." So I turned around and it was me that was the 'you' they were speaking to. There were two girls in an SUV. I figured they needed directions, because we all know women are always lost. I looked at them and inquired as to why they were calling me. Here was our conversation. My inner monologue is in italics.
Chick: You wanna be in a porno?
Me: I'm sorry, what?
WHAAAA!?
Chick: Do you want to be in a porno?
Me: Uhhh, I don't know.
Oh my God Oh my God Oh my God! Remember this moment Michael. It will never happen again.
Chick: Come on. We need some guys to be in a porno.
Me:
Stall for time. Enjoy this moment.
Um, I'm not sure. What's it about?
Chick: It's a porno.
Me: Uhh, I don't think so. I don't have a porn name.
Damn I wish I could use the name Sonic Boom.
Chick: That's OK. We'll give you one.
Me: No, I'm sorry. I'll pass.
What are you doing you fucking idiot??!?!?! Porno! You could be in a porno!
Chick: OK. Fine.
Me: Oh hey. By the way, where are you doing this porno?
I didn't realize that the town of my birth was a hotbed for porno production.
Chick: It's up the street. It's an independent film.
Me: Oh, okay.
You mean it's not one of those big budget special effects pornos?
So that was my near porno experience. I did walk into the bar where my friends asked, "What happened to you?"
There I was, arms raised announcing to the bar, "I just got asked to be in a porno!"
And that, my friends, was the greatest moment of my life. Well, not really. And to be honest, these ladies were not all that attractive. Not hideous, but not the kind of girls I'd like to be in a porno with. I hold myself to a higher standard. I'm sure if I was coming out of the bar, I would have jumped in the back of that SUV with my bangin' boots on. Yes, I do have bangin' boots.
Well, no. No I don't.
by mike 9/17/2003
---
Tuesday, September 16, 2003
by mike 9/16/2003


Yes, Mr. Computer. Yes I do.

Nothing like coming back to work after a week of vacation and going through a bunch of emails, most of which have absolutely nothing to do with me.

In case you are interested, the wedding and the entire week were more fun than I could handle. I thought I'd have all of these hilarious stories to relay to you, but most of them would just end up with me saying, "You had to be there. It was hilarious."

There was a smattering of random foot injuries that plagued the week. A Racquetball accident, a cut foot on a shell, a Murphy bed casualty, a sliced toe thanks to a sharp metal edge underneath a passenger seat and finally, I twisted my ankle while dancing at the wedding. All of these incidents led to the motto, "If you didn't hurt your foot, you were partying like a pussy." I feel like there was another injury, but I can't recall it right now.

I'd like to point out that I wasn't doing a normal dance. There were some violent moves involved that led to it. But I didn't quit. I kept dancing like an ass. Then I got kicked by someone who shall remain nameless, but her name rhymes with Jodie. So I took a short break and got back out there and caused more damage. Since no one had a painkiller shot, shots of bourbon took care of the pain.

So do I feel like a pansy because I injured my foot while dancing? You better believe it. Here are some alternatives:

-- I hurt my ankle when I saved the groom who was about to fall off of his hotel balcony. Since I was holding the rings in both of my hands, I had to offer my ankle to save his life. He hung on to it as I pulled him back up, while my ankle twisted and turned in directions that ankles are not supposed to. It was all worth it because I saved my best friend's life, the rings, and the wedding. Also, while I was doing this, I was breast feeding a baby I rescued the night before from a dumpster.

-- I was staying at the same beach house as Shaquille O'Neal. We had a game of one-on-one. I was going up for a rebound and came down and I landed on his foot, which turned my ankle. I still beat him 21 - 4.

-- My parachute didn't open.

-- I was in a hopscotch contest with Shaquille O'Neal. I hurt my foot when I landed on a piece of dandruff that fell off of Shaq. I still beat him 21 - 4. I was breast feeding that baby as well.

In case you are wondering, and I know you are, I looked really awesome in my tuxedo. I think I might start coming to work in a tux. People can't help but respect you when wearing a tux. I'll just walk all over the office and start ordering people around.

"When did Mike get promoted?"
"I don't think he did."
"Well, he's wearing a tux and telling people to do shit."
"Damn! I guess he's the boss now."

Then I'd walk in with my tux, a top hat and a monocle.

"OK, I need you, you and you in my office now."
"Um, Mike. Where is your office?"
"Handicapped stall. Pronto."

I'd give myself the title of Chief Executive Awesomer. I'm very excited about my new job.

by mike 9/16/2003
---
Monday, September 08, 2003
by mike 9/08/2003
---
Sunday, September 07, 2003
by mike 9/07/2003
Ariel Sharon, meet the future suicide bombers of Palestine.
by mike 9/07/2003
---
Friday, September 05, 2003
by mike 9/05/2003
---
Thursday, September 04, 2003
by mike 9/04/2003
pranksters
?
MOUNT HOPE, Ohio - It's an annual prank in this tranquil Amish community, where men wear straw hats and women bonnets and plain dresses: Youngsters hide in cornfields and hurl tomatoes at passing cars.

This year, the mischief turned deadly.

A motorist who had been pelted several times on Labor Day got out of his car and fired three to five rounds into the 7-foot-high corn, killing 23-year-old Steven L. Keim.
OK, so the Amish have their wacky traditions, that's fine. But they also say they shun many modern amenities, including cars. Later in that article, they mention that not only do they throw tomatoes, but they also shoot paintball guns. Wha? Paintball? The Amish? Isn't paintball like, maybe 20 years old? In the Amish world, that's like something that's been invented yesterday. The Amish are a bunch of fucking hypocrites. And I can say this about them, because I know they aren't going to read this. Stupid non-electric motherfuckers. I guess if the internet was operated by a paintball gun or a tomato, it'd be cool for them to use.
Something like this was bound to happen. What a bunch of no good rabble rousers. I guess since they don't have TV, they don't realize that the world is full of people who will shoot your ass if you throw a tomato at them. And who the fuck are the Amish to be throwing shit at cars?? They don't know what a bitch it is to keep and maintain a car. What if I threw a tomato at a horse? Then they'd understand. This guy who shot the dude probably thought they were throwing eggs, and eggs aren't easy to clean. Plus, in the Normal Electricity Using States of America, we throw eggs at cars, you Amish dicks. Tomatoes? Come on. It's time to catch up to the rest of the world, there, Amish McAssholes. Welcome to your first taste of getting shot for what seems like a silly reason. It's about time.
God damn I hate the Amish.
by mike 9/04/2003
---
Wednesday, September 03, 2003
by mike 9/03/2003
---
Tuesday, September 02, 2003
by mike 9/02/2003


Here is my advice to you parents. Throw stuff away. Don't be afraid. If your kid draws a pumpkin at school for Halloween, throw that shit away on November 3rd. Of course there are some things that you should hang onto, but for the most part, toss it. Except for the Star Wars shit that would have been worth something.

Not much has changed with me since I was a kid. I'm a bit hairier and quite a bit taller, but other than that, I still have most of the same opinions. I found all of these old school assignments in which all I talked about was how much I hated school and loved television. I had to write a paragraph on my favorite month, which I chose as June because it meant that school was over. I called September "Doom Month" because, even though that's when my birthday was, it meant we had to go back to school. I was also asked to draw a picture about what Easter meant to me. My picture was of me laying in bed sick. Apparently my dream Easter was eating so much candy that I'd get sick and be allowed to stay home from school.

Anyway, happy Doom Month!
by mike 9/02/2003
---