I changed this for you, Rich.

comments -- miketoole (at) gmail . com

BLOGS FROM ANOTHER TIME

2006
january
february
march
april
may
june
july
august
september
october

2005
january
february
march
april
may
june
july
august
september
october
november
december

2004
january
february
march
april
may
june
july
august
september
october
november
december

2003
march
april
may
june
july
august
september
october
november
december

Friday, February 27, 2004
by mike 2/27/2004
---
Wednesday, February 25, 2004
by mike 2/25/2004
"Marriage cannot be severed from its cultural, religious and natural roots without weakening the good influence of society. Government, by recognizing and protecting marriage, serves the interests of all."
Ah, yes. The good influence of society, which would definitely go straight down the shitter if we let these homosinuals to get married. I would like to now take a moment to acknowledge those people who have partaken in the glorious celebration of matrimony between man and woman:
Here's to Lorena Bobbit, who after her husband apparently forced her to have sex with him, cut off his penis while he was sleeping.
To John Bobbit, for feeling the need to force his wife to have sex with him, then having the courage to pursue a career in pornography after his penis was re-attached.
To Brynn Hartman, for killing her husband, comedian Phil Hartman, while their children were in the next room, while she was fucked up on cocaine, alcohol and a prescription anti-depressant. The war on drugs would have gotten to her eventually! She took the easy way out! We certainly would have smoked her out of her hole.
To OJ Simpson, who was acquitted of killing his wife and her friend. Thanks for never showing a sliver of remorse about your dead wife and even joking about it on a talk show when you "stabbed" the host
with a banana
.
I don't want to focus on only the celebrities involved in this, so to the millions of men who beat their wives this year, kudos to you! No homos are going to have the same rights as you. You can rest assured that when a gay guy beats up his "partner", you are still the only one allowed to beat up your "spouse".
To all of these heroes in our society, thank you for defending it with your good influence and not allowing our precious moral fabric to be degraded.
Thank you. And may God bless the United Straights of America.
by mike 2/25/2004


That made me laugh. What also makes me laugh is the people with ashes on their heads. Ash Wednesday is great. I would like to start wearing ashes more often, just to fuck with my fellow Catholics. "Wait, what? Ash Wednesday is today?" Then I'd just reply, "Well, hopefully God will forgive you. Who knows? There are no guarantees with the Lord."

I wish today was Accidentally Crap Yourself Wednesday. Then I wouldn't be so self-conscious of all of the disgusted looks I've been getting.
by mike 2/25/2004
---
Tuesday, February 24, 2004
by mike 2/24/2004
---
Monday, February 23, 2004
by mike 2/23/2004
the dictionary
.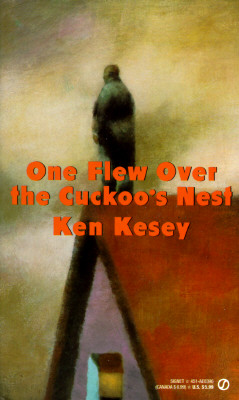 You're One Flew Over the Cuckoo's Nest!

by Ken Kesey

You're crazy. This has led people to attempt to confine you to a safe
place so that you don't pose a danger to yourself or others. You feel like you pose a
great danger to the man (or maybe the woman) or whatever else is keeping you down. But
most of the time, you just end up being observed. Were you crazy before you were
confined?


Take the Book Quiz
at the Blue Pyramid.
by mike 2/23/2004


Apparently, when I went to set my alarm, I accidentally forwarded the time ahead by two hours. Now, instead of fixing the time, I simply adjusted the alarm time to what the corresponding real time would be. Of course, not remembering ever doing this, I would have woken up and saw that my alarm was going off at 10:30, even though it was 8:30. I kind of felt like the guy in Memento. I looked for a tattoo across my chest that said, "You were retarded last night and set your clock wrong. You actually have two more hours than you think. No one killed your wife."

So yes, the mind works in mysterious ways. Especially when there is more beer and vodka getting to your brain than there is blood and oxygen.
by mike 2/23/2004
---
Friday, February 20, 2004
by mike 2/20/2004


So here are some other new rules I've initiated:

-- Effective immediately, the office will be split up in two teams, Shirts and Skins. Shirts will also go by the team name, No Pants.
-- Whenever anyone has a question, they must follow it up with a tap dance where at the end of it, they clap and go, "Yeah!" or if they prefer, "Ha-cha-cha-cha."
-- All meetings are concluded with a tickle fight!

That's all I can think of for now. Now if you'll excuse me, I've got some tickling to do.
by mike 2/20/2004
---
Thursday, February 19, 2004
by mike 2/19/2004


Wake up. Hit snooze. Ten minutes later, wake up. Hit snooze. Ten more minutes later, wake up. Debate on whether or not there is enough time to hit one more snooze. Decide no. Wake up. Step on things. Turn on light. Grab towel. Walk to bathroom in the dark. Brush teeth. Turn on shower. Pray for hot water. Take shower. Dry off. Apply deodorant. Get dressed. Look at clock. Move quicker. One last check for everything. Walk out door. Lock door. Walk down stairs. Lock another door. Brace for cold. Walk hurriedly to subway. Hear train approaching. Run. Skip every other stair. Slide MetroCard. Go through turnstile. Run down more stairs. Jump through closing doors. Look around satisfied. Hold on to handrail. Apply headphones. Stare blankly. Get off train. Go upstairs to next train. Get pushed by people. Get on next train. Stare blankly, this time seated. Read back of someone else's newspaper. Get out of train. Walk to work. Look at clock, with hope that arrival time is three minutes early. Say Good Morning, but skip the "ood". Go make coffee. Turn on computer and begin work day. Look busy for 8 - 9 hours. Go home, just like morning, but in reverse. Set alarm clock. Wait for it to sound so you can hit snooze.

Repeat five days in a row. Weekends optional.
by mike 2/19/2004
---
Wednesday, February 18, 2004
by mike 2/18/2004
---
Tuesday, February 17, 2004
by mike 2/17/2004
---
Monday, February 16, 2004
by mike 2/16/2004
I also like that he killed a man in a duel, because the man "cast an unjustified slur on his wife Rachel." Damn! Imagine the media circus if John Kerry killed a man in a duel.
So here's to Andrew Jackson -- the official president of the ATM.
UPDATE: So I just read a little more about ol' Andy. He was an asshole! Fuck that guy! Get out of my wallet, you slave trading, Indian hunting son of a bitch!
I just found
this site
that makes a case for putting Martin Luther King on the twenty. I'm all for that. Either him or Alex Rodriguez.
by mike 2/16/2004
---
Sunday, February 15, 2004
by mike 2/15/2004
---
Friday, February 13, 2004
by mike 2/13/2004
---
Thursday, February 12, 2004
by mike 2/12/2004
Barbie and Ken
have called it quits. The people in the article seem to be serious about this.
I think they are paving the way for On the Rebound Barbie - The Sluttiest Barbie in History!
Speaking of sluts, someone got to my site by searching "NUDE PICTURES OF MIKE DITKA".
Holy moly! If you do find those, please keep them a secret.
Da Balls.
Next time someone tells you that they would absolutley die without their cell phone, you can reference
this story
.
by mike 2/12/2004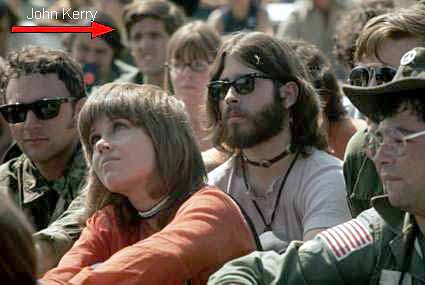 (Leif Skoogfors/Corbis)
People are going make such a big shit about this picture with John Kerry at an anti-Vietnam rally with Jane Fonda. You can see Kerry in the background, and either the sun was in his eyes or some filthy hippie just cut one. Anyway, that picture was taken in 1970 and she didn't officially become Hanoi Jane until 1972. If you've got a problem with him being against the war (even though as a veteran, he's got more of a right than anyone to be opposed to it), that's fine, but the fact that he attended a rally where she spoke is no big fucking deal. Besides, I'm sure a lot more shit will come out when he's president, so you can have a ball with that.
by mike 2/12/2004
videos???"

Yes, I do remember that. But they don't anymore and they haven't played any on a regular basis for quite some time. I'm over it. You should be too. I also remember when Comedy Central used to play comedy, but have you seen Tough Crowd with Colin Quinn? I don't know what that is, but it ain't funny.

Good day.
by mike 2/12/2004
---
Wednesday, February 11, 2004
by mike 2/11/2004
---
Tuesday, February 10, 2004
by mike 2/10/2004
---
Monday, February 09, 2004
by mike 2/09/2004
by mike 2/09/2004


I should be sick of Hey Ya, but I'm not. I also didn't hear it until about two months after everyone else, so cut me some slack.

Justin Timberlake: You are not Stevie Wonder. You never will be Stevie Wonder. Even though you sit behind a keyboard and attempt to sing like him, you are not. Please stop.

by mike 2/09/2004
---
Friday, February 06, 2004
by mike 2/06/2004
So first, there was a guy who came down the ramp, and to be honest, it wasn't very exciting. I was about to leave and then someone else came out to jump, so I decided to wait. It was a lady, so I thought that if anyone was going to crash, it'd be her. Because we all know chicks can't do things right. Am I right, fellas? So she came down and she got off to a very shaky start at the top of the ramp, but she came down, hit the jump and landed fine. I figured they were probably done, so I left. I walked by it again about 10 minutes later and there were ambulances all over the place. Damn! I missed something.
Turns out when the girl went again, she hit the jump wrong and
landed on the pavement
. When I saw the news, I realized she would have hit right in the vicinity of where I was standing. I could have recognized that she was a damsel in distress and I could have saved her! Damn! I coulda been a hero.
So the lesson here is: Never leave a place early when there is a chance for human tragedy. You can end up being a hero, or at least end up with something more interesting to put on your blog.
She is doing fine, in case you were wondering. She should have been wearing a helmet.
by mike 2/06/2004
---
Thursday, February 05, 2004
by mike 2/05/2004
---
Wednesday, February 04, 2004
by mike 2/04/2004
---
Tuesday, February 03, 2004
by mike 2/03/2004


Let this be a message to all terrorists in Iraq: We just don't give a fuck!
by mike 2/03/2004
---
Monday, February 02, 2004
by mike 2/02/2004


I was at my mother's house in New Jersey for the big game. Yesterday was also my older sister's birthday, so we had a little surprise party for her. The gal is 30. Here is an interesting note about my sisters' and my birthdays: Each one of us has had a tragedy to coincide with the day of our birth.

First, Laurie had the Challenger explode on her birthday back in 1986. Then last year, on February 1, my sister Christina's birthday, the Space Shuttle Columbia blew up. And perhaps the worst tragedy of all, on my birthday, September 27, back in 1947, Meat Loaf was born. What a horrible horrible day.

So I got to see Uncle Hank yesterday. He was pretty awesome. Nothing too memorable was said. He was actually overshadowed by my Uncle Joe. Uncle Joe is my mother's cousin who somewhat resembles Mel Brooks. Yesterday at some point in the evening, there was an unusual silence in the conversation, when Uncle Joe said out of nowhere, "Can you believe White Castle raised the price of their hamburgers to 49 cents? (Another pause... no one responds) Man, I love those burgers."

OK, halftime show. The American Flag has never looked better than it did when worn as a poncho by Kid Rock. In case you were wondering what that rumbling was when he came out wearing that, it was all of our founding fathers rolling over in their graves simultaneously.

Janet Jackson's boob... I only wrote that so people would get to my site by searching for photos of her boob. I loved the statement release by Justin Timberlake. "I am sorry that anyone was offended by the wardrobe malfunction during the halftime performance of the Super Bowl." Wardrobe malfunction. Brilliant spin. Luckily, Janet was wearing her nipple broach. Probably handed down through her family. I'm sure at one time it was her grandmother's.
by mike 2/02/2004
---