I changed this for you, Rich.

comments -- miketoole (at) gmail . com

BLOGS FROM ANOTHER TIME

2006
january
february
march
april
may
june
july
august
september
october

2005
january
february
march
april
may
june
july
august
september
october
november
december

2004
january
february
march
april
may
june
july
august
september
october
november
december

2003
march
april
may
june
july
august
september
october
november
december

Thursday, December 30, 2004
by mike 12/30/2004
this post
, but then I realized it would be too long. So go read the post and then come back.
Don't hate her because she's beautiful. The biggest problem here is the headline. "Tsunamis shatter celebrity holidays". It's a horrible headline, but the fact that celebrities were there
is
news. It's human interest. It may not seem like much to we here in America that an Australian rules football player was there, but if a New York Yankee was there, we'd be hearing about that. I'm sure many are interested in a Swedish skiing great that is probably dead. The headline makes it seem like a bunch of celebrities were there and said, "Oh, this tsunami has fouled my holiday! Get me on the first jet to the West!"
What is unfair about this post is that it shows a picture of Petra Nemcova, pre-tsunami, where yes, she is gorgeous and pretty and smiling. The woman spent eight hours clinging to a tree while she had a broken hip. Her boyfriend is probably dead. Are there worse stories? Plenty. Is she luckier than most? Indeed. She gets to eventually go home where she has family and money and better doctors. And the people in the other pictures are probably much worse off than she is. But still, it is news. We can't possibly hear about every story about every family that is suffering.
Yesterday I pointed out the headline on ESPN, "Swimsuit model survives tsunami; toll at 60,000" because it is a ridiculous headline, especially when you see the headlines that were above it, like "Trade talks for Big Unit back on".
This line, "Is our culture so sick that we'll fixate on a pretty European model and a few athletes?" is also inaccurate. Are we fixating on them? It's one headline in a sea of thousands. A story that has gotten more coverage is the Swedish boy who was
reunited
with his father. Let's face it. If that kid wasn't cute and white, we wouldn't know about it. There are probably hundreds that are orphaned. Journalists have a responsibility to report the big news, and then find every different possible angle of that news. Celebrities are one tiny part of a gigantic story.
There are plenty of things to criticize the media about. Yesterday on Fox News, between reports about the tsunami, they interviewed Motley Crue.
They interviewed Motley Crue.
Between reports about the tsunami.
They interviewed Motley Crue.
With all the 24 hour news agencies, there are going to be things that are idiotic. But I don't think reporting on people that are in the public eye who happened to be part of a tragedy, is one of those things.
That's my comment.
by mike 12/30/2004
---
Wednesday, December 29, 2004
by mike 12/29/2004
"stuck a broomstick in my ass"
Yikes! Good luck to you, young man (I'm assuming).
And another search:
"where's a good place to touch myself vagina"
Well, it seems you've answered your own question. I'd say you're off to a good start. The vagina is a great place to touch yourself. Not that I have one. But I know a guy.
Remember when I told people to email me three questions? Well that's turning out to be a lot more work than I thought. If you are sitting there at your computer hitting refresh over and over again, yelling, "WHY WON'T HE ANSWER MY QUESTIONS, DAMMIT!" I suggest you take a break and come back once a day. I will get to them at some point. I am just so fucking busy and so fucking popular that it might take a while. And I might never answer them at all. Especially
this guy's
.
by mike 12/29/2004
---
Tuesday, December 28, 2004
by mike 12/28/2004


No shit.

I think we can all agree that the bulk of this disaster could have been avoided, not if a warning system was in place, but if the kids had swimming lessons. Thank you, CNN weatherman.

In his defense, I don't think he was expecting her to bring that up. He was probably all ready to be like, "It is chilly in the northeast." And not, "My God, this tragedy makes me realize my life is worthless."

I had to leave for work before she could talk to the entertainment reporter. "Before we get to What's Hot in 2005, I wanted to show you this picture of the Holocaust. Isn't that something? So many children. Look at how sad their faces are."

"Um, yeah, look at that. I guess they weren't, um, good workers. Can I talk about crazy celebrity baby names now?"

Anyway, here are some more three questions from a lady named Trinity.

1. What is your favorite ice cream flavor?

I'm very boring when it comes to ice cream. I like the classics. Strawberry is tops. Yeah, that's right, I like pink ice cream. This, of course, adds to my dad's theory that I'm gay.

2. Why did you pick three random questions and not 1, 2, or 5?

Because I've seen other people do it on their blogs. OK, so I'm unoriginal, I accept it. Damn, Trinity, was the point of your email to make me feel like shit, unoriginal and gay? Mission accomplished.

3. What was your favorite age and if you didn't have it yet, what do you think your favorite age will be?

For some reason, 23 stands out. I don't know why. I think I just like the number. Nineteen was pretty great. I'm sure two was a lot of fun, but I don't recall much. Probably lots of crapping and sleeping and giggling.
by mike 12/28/2004
---
Monday, December 27, 2004
by mike 12/27/2004


-- email me some Netflix recommendations.

-- email me three random questions and I might answer them on the blog.

I'm tired. That's all I can think of.
by mike 12/27/2004
The world? This is on the same day where over 20,000 people died from a tsunami. Sure, the guy was a minister and I'm sure did a lot of nice things for people. But the world? I bet there are many countries where not one person knew of Reggie White.
"Did you see that wave yesterday? Something else, huh?"
"Yes, I lost my family and my entire village. But at least we still have Reggie White, the great defensive lineman."
"Oh my, have you not heard? He passed away yesterday."
"NOOOOOOOOOoooooooooo!!!!!"
It's nothing new for ESPN to overblow stories. If your only news source was ESPN, you would think that only one soldier has died in the wars in Afghanistan and Iraq. Pat Tillman. That's it. He's the only one. Of course, if your only news source was ESPN, well then, we should have a chat.
Also in the intro, the guy said something like, "Reggie White was called home early this morning." Called home. Meaning God called him up to heaven.
After that, Stuart Scott, the worst thing ever to happen to sports broadcasting, said something like, "When ya hit your knees tonight, think about Reggie White..."
Ya see, Stuart Scott is so fucking cool, he couldn't say, "When you say your prayers tonight." No. When ya hit your knees tonight. Hey kids, don't forget to hit your knees tonight.
Anyway, I just want to watch some football highlights, and all of the sudden I am watching ChurchCenter. So I popped in The Simpsons Season 5 DVD, a gift I bought for myself the other day.
What's my point? I forget. Somtimes I hate sports. Reggie White dying is sad. But I think we'll get on. Football fans and I'm pretty sure the world will be able to get through this terrible time of tragedy.
If you'd like to donate to the Red Cross, you can go
here
. I think they are accepting donations for the tsunamis and Reggie White. You can also buy this sweet vintage T at the Red Cross Store! Check it out. You'll be all fucking hip and kind of Asian!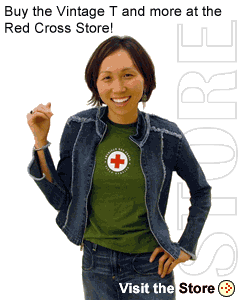 by mike 12/27/2004
---
Sunday, December 26, 2004
by mike 12/26/2004
---
Tuesday, December 21, 2004
by mike 12/21/2004
---
Sunday, December 19, 2004
by mike 12/19/2004
---
Friday, December 17, 2004
by mike 12/17/2004
---
Wednesday, December 15, 2004
by mike 12/15/2004
---
Tuesday, December 14, 2004
by mike 12/14/2004
---
Friday, December 10, 2004
by mike 12/10/2004
---
Thursday, December 09, 2004
by mike 12/09/2004
---
Tuesday, December 07, 2004
by mike 12/07/2004
---
Monday, December 06, 2004
by mike 12/06/2004
---
Saturday, December 04, 2004
by mike 12/04/2004
---
Thursday, December 02, 2004
by mike 12/02/2004
---