So kids, don't kill someone and try to get a nap from them. Just take their iPod and their drugs.
So. What's up everyone? Like I said, I am tired. Last night I hung out with my boy,
Mike "Hollywood" Ochs
. We got drunk and Mike tried to do awesome things to get mentioned on my blog. Towards the end of the night, he was like, "So, will you mention me?" And I was like, "Well, nothing really awesome happened. I had fun, but it was mostly good conversation. But nothing really bloggable." And then he was all, "Yeah, I see what you mean." So as I was driving home and Mike was in the passenger seat, he goes, "Hey, look out for that oncoming bus!" And I was sort of, "What oncoming bus? I don't see anything." Then he said "This bus!" and just unloaded a mean right hook into my balls. So I cried and crashed into a parked bus and laughed and said through my wheezing and tears, "I will mention you now! Touche! I'm pretty sure I can't have kids now."
I was watching the Mets game yesterday with the
most awful collision
I've ever seen. I happened to be, um, mouthwashing? I was walking into the living room so I wouldn't miss any of the game, and bam. I almost did a spittake with Listerine all over the place. Luckily, I kept it in and prayed that Mike Cameron would be alive.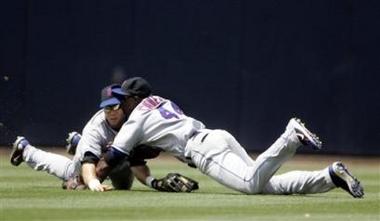 The whole thing was a little gay. It looks like Cameron is giving Beltran a very violent kiss here, then afterwards, Beltran tried to spoon a little with Cameron, but Cammy wasn't having any of it. I would imagine if I just broke my face, I wouldn't want to cuddle either.
Let's go Mets.