Some of the postings on craigslist are so funny. I saw this at the end of one listing.
AVAILABLE NOW
I HAVE KEYS
Well, thank goodness they have the keys. I hate when you read a posting that ends with, "It really is a great apartment and available right now, but unfortunately, I don't have the keys." Actually, that posting doesn't even make it clear that they have the keys to the apartment. They might just be making a simple statement for some reason.
AVAILABLE NOW
I LIKE COLE SLAW
I just found
this one
. Basically, this chick is offering to help you find an apartment. She doesn't seem to be a broker, but just wants to help. But then in the middle of her blurb about how she will help, it says, "Best of luck! I will screw you just like everyone else!!" Um, OK, thanks for being honest.
This one
is fantastic. Just go look at the photos.
"High ceilings, nice space, safe neighborhood, a pigeon in a flower pot."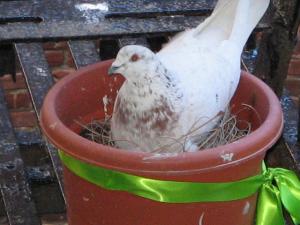 Notice it's a white pigeon. This neighborhood has become so gentrified.